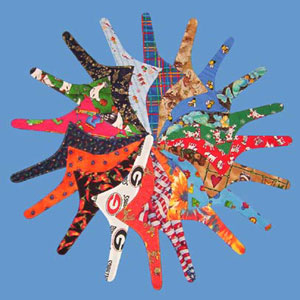 Small Dog Bandana
This is the smallest bandana we make. This bandana measures 15 1/2" in length x 4 1/2" in depth suitable for the tiniest of dogs or cats. These bandanas can be worn by miniature Pinchers, miniature Dachshunds, Yorkshire Terriers, Chihuahuas, puppies, cats, and other small animals.

This bandana can be tied or made with velcro. The standard size shown above will fit up to 6" when tied or a 13" to 14 1/2" neck with velcro. We add 1" to your neck size for comfort. We custom make this bandana to fit a 5" - 12" neck with velcro. If you want to tie this bandana, your pet's head should be no larger than 5" so you can slip this bandana over their head.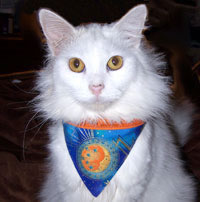 These small bandanas are perfect for cats. We recommend the standard size small bandana with 1/2" of velcro. When ordering this small bandana with velcro for a cat, choose the velcro option in the list and type cat in the customer comments section. Please specify the bandana name when ordering multiple small bandanas with velcro for different animals. We only need to know which bandanas are for cats in the standard small size with 1/2" of velcro.
Example: cat-astrological